Top 5 Kitchen Countertops materials
The kitchen countertop is meant to be the busiest space in any household, so it must be maintained and cherished for years. The flat surface in the kitchen on the top or low of furniture or granite on which our daily food is prepared is called a kitchen countertop. In ancient times, there was no specific material designed for countertops, instead, they were made out of stones and wood. But as industrialization emerged, people adapted to modern kitchen spaces with unique and elegant designs of exclusive materials. 
It's only natural to feel astonished by the fact that so many possible designs are available in kitchen countertops trends today. These trends frequently change from time to time. Nowadays, People tend to decorate their desirable homes with ongoing trends. Granite and Interior design industries earn a huge amount of profit from providing a variety of unique designs in countertops because it's one of the highly demanded things today!
Top 5 Kitchen countertops Materials used for designing:
Granite kitchen countertop:
It's the most commonly used material used for making countertops without any issues. There are a lot of varieties available in granite with reasonable prices as of its high demand. Granite adds the royal effect even to the modest kitchen. 
The cost of installation of a granite countertop starts at ₹4000 per square meter, which includes the cost of materials, labor, and cutting charges.
Soapstone kitchen countertop:
Soapstone is a natural stone, usually dark gray in color with smooth silky feels. It's frequently used as an alternative to granite. Mostly seen in historic homes, it is also used in kitchen countertops and sinks. The soapstone used in countertops is actually quite hard and resistant to stains.
A slab of raw soapstone can cost you around Rs.3300 – Rs.6300 per square foot (on average in USA) depending upon where the soapstone has been sourced from.
Marble kitchen countertop:
Another natural stone used in kitchen countertops is a marble. Because of its extremely high price rate, it's not often seen in most kitchens. More often, its luxurious look is limited to use on an island or section of countertop reserved as rolling chapati or baking center.
The cost of a good quality Marble kitchen countertop starts from Rs 2,500/sq. mt.
Quartz kitchen countertop:
The material known as quartz is actually an engineered stone product that contains as much as 93 percent quartz particles and other minerals, shaped into slabs and bound with resins. Quartz is available in a larger range of colors than granite and has a nonporous surface that holds out against both scratching and staining. Quartz starts at ₹400 per square foot.
The cost of installation of a quartz countertop is approximately ₹5000 per square meter, inclusive of material and labor charges.
Ceramic tiles kitchen countertop:
Being easy to clean and durable, They are considerably less expensive than natural stone, quartz, or solid-surface countertops, especially for DIYers willing to do their own work.
Maintenance and cleaning of kitchen countertops materials:
As every kitchen countertop design has its unique embrace and qualities, each material also has its cleaning and maintenance needs. Although these materials have water and heat-resistant qualities, you have to make sure you're taking the proper precautions and majors to prevent extreme heat exposure.
To keep the shine and radiance of your countertops, you can't just use whatever multipurpose cleaner as they might be damaging or dulling them. The best way to clean a countertop is to use supplies you are likely to already have – and consistently use the recommended cleaners for that particular surface. Each particular surface has its own way of cleaning.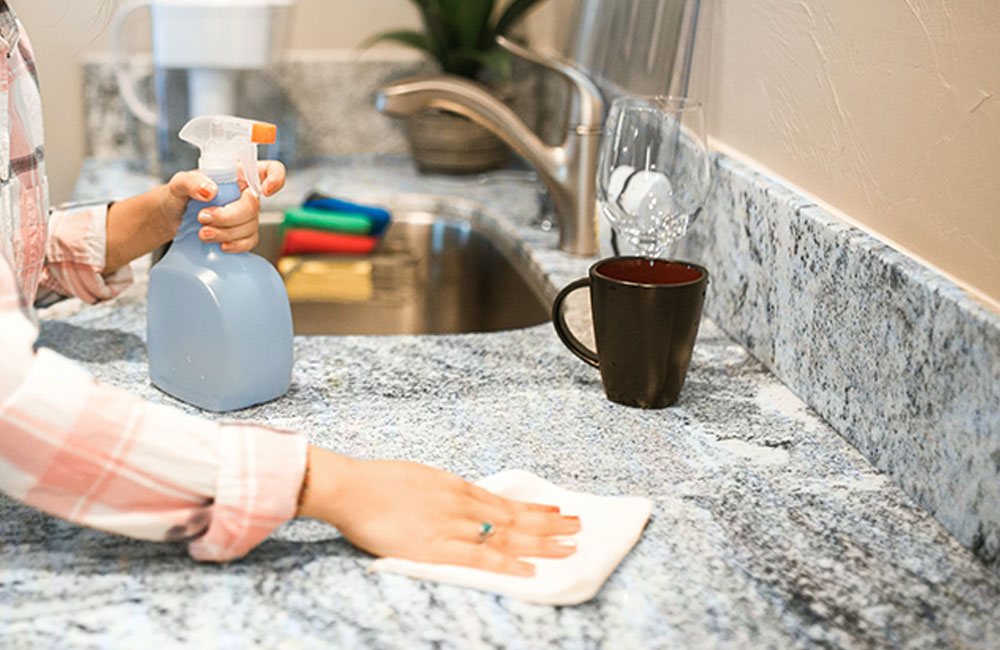 Cleaning Marble, Granite, and Quartz countertops
These stones are the stars of the countertops world. Marble is a natural stone, so it is very porous and hard to keep spotless. Quartz can also stain if the spill is left sitting too long and it's not heat-absorbent. So the use of acidic cleaners on these surfaces can lead to dullness.
To clean these countertops, use hot water with dish wash and a damp microfiber cloth then dry them with another microfiber cloth. If the countertops are properly sealed, a bleach-free disinfecting wipe can be used.
Cleaning wooden countertops
In order to keep your wooden countertops looking great, clean them daily with a homemade mixture of warm water with a splashing of distilled white vinegar. You can also use non-abrasive cleaners.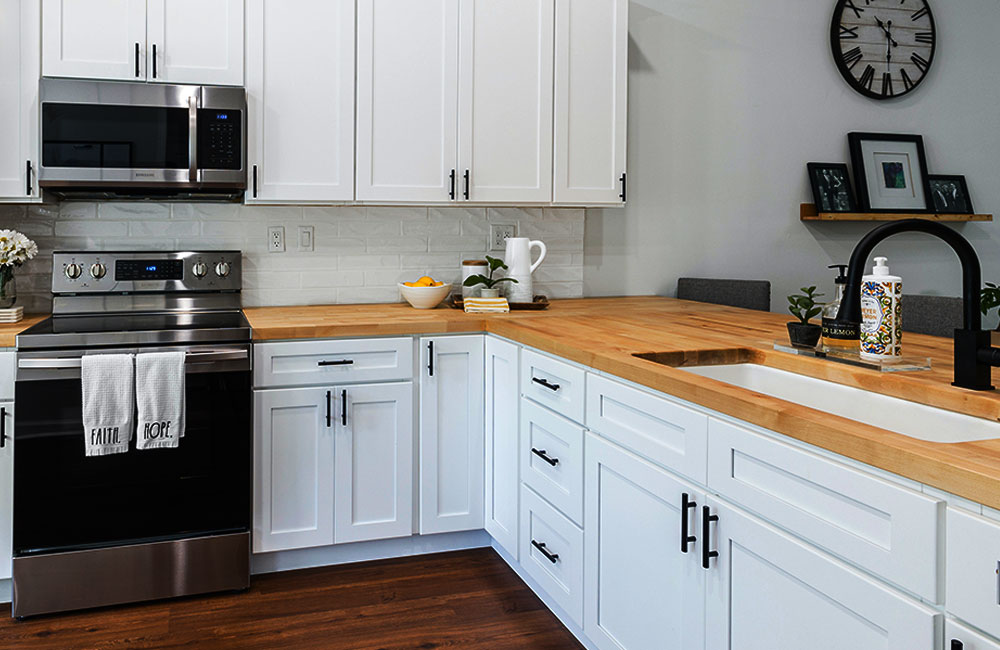 Cleaning Tile countertops
The toughest thing about tile is the grout. It can collect food particles and are prone to staining. Using bleach with scouring powder is the best way to keep the grout shining white. On the other hand, tiles are usually pretty easy to wipe clean, but of course, aggressively using the scrub can ruin the glossy finish.