Desert Brown Granite- Granite of the year
All the things you need to know about Desert Brown Granite
The sophisticated and charming Desert Brown Granite is one such lovely granite that we will discuss in this article. This is a homogeneous granite with intense yellow-brown crystals and small black-colored crystal dots in its background. This beautiful granite's tan color scheme has a nostalgic feel to it, much like the desert itself.
Desert brown granite is one of the most popular granite all around the world for its natural chemical & physical properties. Yellow-brown color is the important identification of this granite. This granite is also known as "Merry Wood Granite" or "Nova Brown Granite". This type of granite is mostly found in the Indian state of Rajasthan. In recent years, its demand has increased drastically and it is used everywhere; whether it is a commercial building or a home.
Desert Brown granite is a low-variation, durable, and long-lasting granite available in finished tiles and slabs. It is popular for commercial and residential projects, including exterior landscaping in cold climates.
Why Choose Desert Brown Granite?
There are many reasons to choose this granite over other natural stones for your upcoming projects. Let us see some important factors-
Desert brown granite can be used for flooring material, countertops or Wall tiles. Wherever you use it will look very attractive and eye-catching. 

Durability is another important factor that explains the importance of desert granite. This outstanding property of this granite makes it the best choice for everywhere. 

You can easily clean and maintain without regular sealing because of strain resistance characteristics. Hence, a housewife can spend their important time doing some other work without any worry about cleaning surfaces after cooking. 

Desert Brown Granite

is less penetrable to moisture. That is why you can use these granite tiles in the bathroom etc without worrying about cleaning them again and again.

It has been considered one of the most fashionable granite and is also a tough material having high resistance against stains and water. 

Most suitable and popular granite for freezing temperatures and heating areas, which is why it is regarded as an all-weather resistant material.
Major Applications of Desert Brown Granite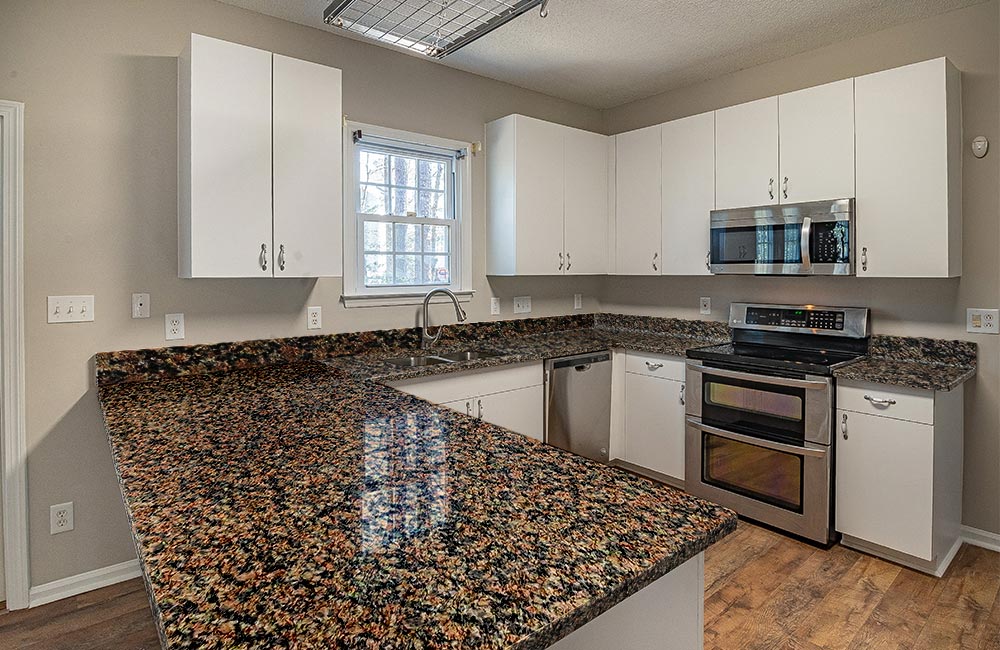 They have been used in a variety of applications, including furniture, flooring, and other home decor items. Some most regular uses of this granite stone are mentioned below: 
Counter/Vanity Top: It is the most common use, you can use it for residential buildings or commercial buildings kitchen counters, kitchen mosaic counters, dining tabletops, Bathroom vanity tops or kitchen vanity. 
Flooring: Everyone wants a clean and attractive floor. Desert brown granite easily fulfils this requirement due to its naturally smooth and soft texture form. 
Cladding: It is a general purpose in manufacturing walls of the kitchen. It may also be used as a common hall, bedroom wall covering and bathroom wall designing too. 
Swimming Pool Areas: In general, all swimming pools required granite walls to give the best finish and appealing look. People like to use Desert brown for this purpose greatly. 
Bathroom Walls & Floors: Its tiles are commonly used for bathroom walls and floors. The attractive look and easy cleaning properties of Desert brown granite make it possible. 
External & Internal Aids In Construction: This brown granite can be used for external aids in construction, most likely used in the west Rajasthani architecture style. It can also be used as internal wall cladding to give an attractive and stylish appearance to your living area or bedrooms. 
Suppliers of Desert Brown Granite
As Desert brown granite is a very high-demand material, its supply must be very good to fulfil all the requirements of customers. It is supplied all over the globe by thousands of respected companies like Goodwill Exports, marble.com, rkmarbleindia, and many more. 
As one of the leading Desert Brown Granite suppliers, we at Goodwill Marble & Granite have been able to offer this product in a variety of finishes, textures, sizes and shapes. All our products are specially designed by our designer and processed by highly skilled workers using advanced machine technology precisely. That's why our products are highly appreciated by our clients and in demand worldwide. 
If you are considering installing Brown Desert Granite in your home, this could be one of the best decisions you make. This granite will not only provide a solid surface but will also add a stunning appeal to your residential or commercial property. 
We offer all types of granite & marble slabs and tile with a variety of finishes at very competitive prices. What are you waiting for? Call our customer service executives and get the best deal with huge discounts. You can ask any doubts and queries via call, chat or email, we will be happy to solve your doubts.